Arenanet hat das zweite Addon für GuildWars 2 angekündigt. In Path of Fire reiten Spieler erstmals auf Mounts durch die Welt von Tyria und erkunden dabei auch Gebiete wie die Kristallwüste und Elona aus dem Vorgänger. Path of Fire für GuildWars 2 erscheint bereits am 22. September 2017 und ist als Standalone-Version für 29,99 Euro erhältlich. Schaut euch den Trailer zu Path ofFire an!
Der neue Gegner ist Balthasar, der Gott des Feuer und des Krieges. Eigentlich dachte man, die Götter hätten Tyria verlassen. Balthasar ist aber zurück und steckt hinter vielen der jüngsten Verwicklungen.

Die Erweiterung "Path of Fire" schließt direkt an die jetzige Story von GuildWars 2 an

Es kommen 5 neue Zonen, die größten, die man bisher gebracht hat

9 Elite-Spezialisierungen kommen neu

Spieler können Kopfgeld-Aufträge annehmen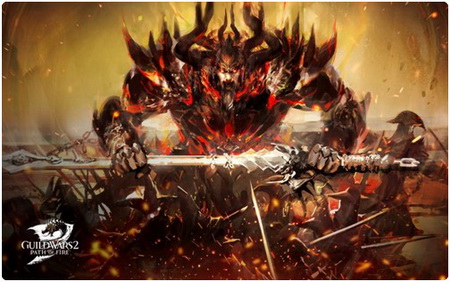 "Path ofFire" kommt als Stand-Alone Erweiterung. Das Grundspiel muss man nicht besitzen. Allerdings braucht man "Heart of Thorns", die vorherige Erweiterung, um deren Features zu erhalten.

Schon nächste Woche läuft ein Preview-Event für alle. Jeder kann am 11. August bis zum 13. August eine Demo von "Path ofFire" spielen.

Die Erweiterung kommt bereits am 22. September um 18:00 Uhr. Das ist das Release-Datum für GuildWars 2 "Path of Fire."

Mounts besonderswichtig in Guild Wars 2 Path of Fire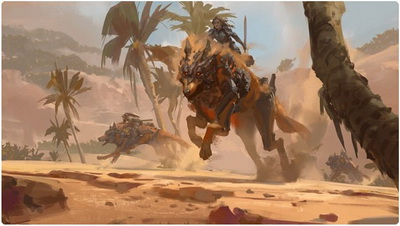 Spieler sollten die Mounts nicht als "simple Reittiere" sehen, sondern als Gefährten, die neue Bewegungsmöglichkeiten offenbaren. Mit ihnen springt ihr über Schluchten, erklimmt hohe Klippen und schwebt über Treibsand. Mounts in GuildWars 2 werden Teil des Beherrschung-Systems sein, ein zusätzlicher horizontaler Fortschritt.

Das erste Mount ist der Raptor, der besonders weit springen kann.

Der Springer ist eine Art, "Mutanten-Hase." Er verfügt über einen Sprung, den er aufladen kann, um dann besonders hoch zu springen

Der Schwebe-Rochen schwebt über Wasser und kann unwirtliche Regionen erreichen

Der Schakal ist ein magisches Wesen, dass sich über kurze Distanzen teleportieren kann