---
Das Entwicklerteam der ZeniMax Online Studios hat den neuesten DLC, "Shadow Over Morrowind", in "The Elder Scrolls Online" offiziell im Jahr 2023 veröffentlicht. Die neue Geschichte wird die Spieler zurück nach Morrowind schicken und ein neues Abenteuer beginnen.
Shadow Over Morrowind" wird eine Geschichte erzählen, die sich über mehrere Inhaltsveröffentlichungen erstreckt, beginnend mit dem im März geplanten Dungeon-DLC "Scribes of Fate". Die Geschichte wird im Kapitel "Necrom" fortgesetzt, das im Juni erscheinen wird. Besonders aufregend ist, dass das Team auch eine neue spielbare Klasse angekündigt hat, den Arkanisten, der mit dem Necrom-Kapitel im Juni eingeführt wird.
Necrom-Kapitel
Nach der Veröffentlichung des "Scribes of Fate"-DLCs hat ZeniMax Online Studios das nächste Kapitel von The Elder Scrolls Online enthüllt, das den Namen "Necrom" trägt und im Juni dieses Jahres offiziell veröffentlicht werden soll.
Das "Necrom"-Kapitel wird 30 Stunden völlig neue Story-Inhalte bieten, die es den Spielern ermöglichen, zwei großartige neue Regionen in Ost-Morrowind zu erkunden, begleitet von zwei neuen Begleitern.
Zusätzlich zu den neuen Gebieten wird das Necrom-Kapitel auch etwas bieten, auf das die Spieler gewartet haben: eine neue spielbare Klasse, den Arkanisten. Der Arkanist wird die siebte Klasse in ESO sein und bringt mächtige neue Fähigkeiten und Mechaniken aus Hermaeus Moras Reich Oblivion mit.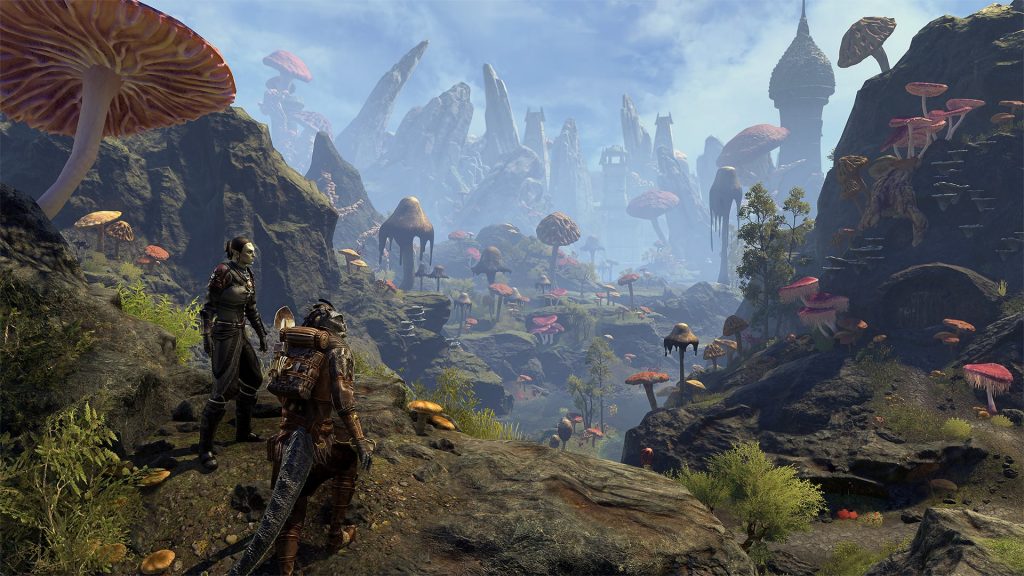 Der Veröffentlichungstermin für das Necrom-Kapitel auf PC/Mac ist der 5. Juni 2023 und auf Xbox- und PlayStation-Konsolen der 20. Juni 2023.
In diesen beiden einzigartigen "Necrom"-Regionen warten viele einzigartige Charaktere, Geschichten und Herausforderungen auf die Abenteurer!