Willst du sparen? Oder mehr Gold bekommen, um ihren Genuss zu verbessern? Muss nicht auf irgendwelche festlich Promotions warten .. Unsere UNGLAUBLICH APRIL PROMOTION kommt hier für Sie im Voraus.

Vielen Dank für Ihre langfristige Unterstützung und Vertrauen in Mmosale.com. Unsere APRIL PROMOTION ist bereit, am Ende des Monats (4/21) zu starten. Eine beträchtliche Anzahl von Gold und Überraschungen warten hier auf Sie - also Sie sollten diese Chance nicht verpassen, um einige von ihnen zu bekommen, um deine Charaktere mächtiger zu machen.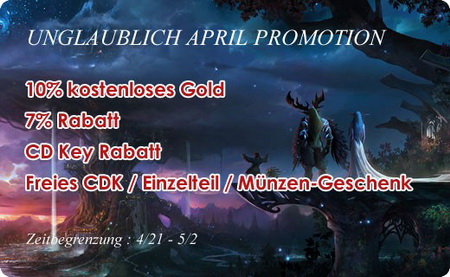 Zeit: 21. April 2017 - 2. Mai 2017


Extra 10% kostenloses Gold für World of Warcraft, FF14, Star Wars The Old Republic, The Elder Scrolls Online, Revelation Online.

7% Rabatt auf FIFA 17, Guild Wars 2, ArcheAge, Blade & Soul.

Melden Sie sich in unserer Social Media Diskussion an und gewinnen Sie Gold / CDK / In-Game Items. (Sagen Sie uns einfach, was Sie bekommen möchten (Gold, In-Game-Item oder CDK) über Facebook Private Nachrichten und ONE Teilnehmer werden jeden Tagzufällig von unserem System als unser glücklicher Kunde gewählt.)

7% Rabatt auf CDK und erhalten 5% Rabatt Gold Coupon, die nur gültig ist, während 4/21 - 5/2

Verpassen Sie es nicht !Gehen Sie und finden Sie in Mmosale!