T'uure, Fanal der Naaru wird in World of Warcraft: Legion die Artefaktwaffe der Heiligpriester.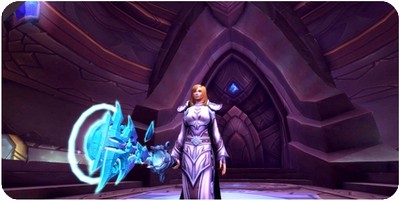 Beschreibung
Heiligpriester verkörpern die Macht des Göttlichen und führen daher eine wahre Waffe des Heiligen Lichts: T'uure, Fanal der Naaru. Eine solch edle Waffe kann eingesetzt werden, um entweder Verbündete zu heilen oder diejenigen zu strafen, die sich gegen sie wenden.
Als Wesen des Heiligen Lichts retteten die wohlwollenden Naaru die Draenei von ihrer Heimatwelt, nachdem die meisten ihres Volkes in dämonische Rekruten der Brennenden Legion verwandelt wurden. Die Dämonen überwältigten die fliehenden Draenei beinahe, doch die Naaru schützten die Flüchtlinge mit diesem Kristallfanal.

T'uure kanalisiert die Essenz des Lichts in heilenden Glanz, der selbst die schrecklichsten Wunden heilt und Verletzte von der Schwelle des Todes zurückholt. Am Ende fiel der Kristall in einer überfallenen Welt den Truppen der Legion in die Hände. Seitdem hat man ihn nicht gesehen.
Heilig-Priester erkämpfen sich zu Beginn der kommenden Erweiterung World of Warcraft: Legion den Kristallstab T'uure, das Juwel der Heilung. Im Video vom Alpha/Beta-Testserver zu WoW: Legion zeigen wir euch die Questreihe rund um den magischen Stab für die Heiligen unter euch Priestern.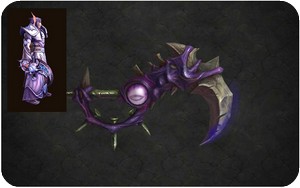 Als Heilig-Priester bekommen wir in der kommenden Erweiterung World of Warcraft: Legion nicht irgendeinen Stab in die Hand gedrückt, sondern T'uure, Fanal der Naaru und Juwel der Heilung. Diesen hat Blizzard zwar extra für die Questreihe erfunden, doch er passt zur nächsten WoW-Erweiterung wie die Faust aufs Auge. T'uure war nämlich ein Geschenk der Naaru an das Volk der Draenei, als dieses von seiner Heimatwelt vor der Brennenden Legion floh. Doch beim Rückzug von Argus ging der Stab an die Dämonen verloren und ist seitdem eine Legende.
Ein Soldat will T'uure aber beim Kampf gegen die Legion gesehen haben! Das Problem dabei: Er selbst liegt schwer verletzt in Dalaran und reagiert auf keinerlei Heilungsversuche. Ein Heilig-Priester findet da doch garantiert eine Lösung, oder? Auf der richtigen Spur betreten wir den Wirbelnden Nether und verbünden uns im Kampf gegen die Legion mit Jace Düsterweber, einen Dämonenjäger auf der Jagd nach einer Anführerin der Eredar. Die trägt angeblich auch den Stab, doch zwischen ihr und der kleinen Heldengruppe stehen viele Dämonen. Ihr wollt noch mehr über die Artefaktwaffen in WoW: Legion erfahren? Dann schaut in unseren Sammelartikel.